V. Bakul Institute for Superhard Materials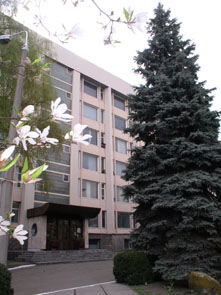 V. Bakul Institute for Superhard Materials of the National Academy of Sciences of Ukraine - is a large European science and technology center.
The Institute is engaged in the development of processes for production and application of synthetic diamond, cubic boron nitride and other superhard materials, high-density high-tech ceramics, and cemented carbides. We deal also with manufacturing structural products and tools of the above materials.
Fundamental research:
physico-chemical processes of forming, growth and study the characteristics of mono- and polycrystalline, dispersed materials, diamond and diamond-like films in a wide range of temperatures and pressures; development of methods of spontaneous and directed regulated synthesis of superhard materials and development of methods of static, explosive and epitaxial synthesis.
Priority-driven elaborations:
large monocristals of synthetic diamonds; elite grindpowder and micropowder of synthetic diamonds and cubic boron nitride; polycristalline and composite superhard materials based on diamond and cubic boron nitride; diamond and carbide tool for higly efficient metal-machining, boring, stone-machining, coal output and geological survey; articles of ceramics; polising pastes for high-exect optics; superprecision lather of diamond turning and polishing; technologies of precisely machining of metals, glass and ceramics.

We invite scientists, producers, investors, businessmen for long-term and mutually beneficial cooperation, serious and fruitful work in science and production economic sector of Ukraine. We will be sincerely grateful for show interest, scientific, technical and commercial suggestions.

Sincerely yours, Prof. V.Z.Turkevich, Academician of the National Academy of Sciences of Ukraine, Director of the Institute