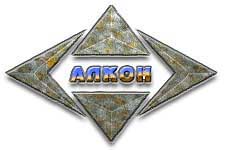 "ALCON" Concern combines the Institute for Superhard Materials with production, design and technological, experimental, and selling units.

General Director of "ALCON" Concern is Prof. V.Z.Turkevich, Member of the National Academy of Sciences of Ukraine
"ALCON" produces 100% of the world nomenclature of superhard materials (SHM), turns out 5% (vol.) SHM of the total world production. Main directions of "ALCON" activity are:
development of technologies for synthesis of different diamond grades, cubic boron nitrides, diamond-like perspective materials and film coatings;
production of high- dense ceramics, wear-resistant composites for instrumental and functional purposes;
creation and instrument production of hard alloys from diamonds for abrasive machining, polishing, turning, milling, boring, cutting, and drilling the different materials;
development of technologies for mechanomachining with instruments made from superhard materials, for forming precision complex-profile articles with exclusively percpective surface smoothness;
design and production of machines and technological equipments, means and methods of controlling and measuring, certification.
"ALCON" priority goods at SHM market are synthetic diamonds and cubic boron nitrides, pastes, polycrystals, diamond segments, detachable circles, diamond and corbide rock destructive cutters, boring crowns and chisels , diamond polishing circles containing ceramic and organic binders, dressing tools, articles from hard alloys and ceramics, diamond and diamond-like film coatings.
---
"ALCON" consists of 13 institutions:
V. Bakul Institute for Superhard Materials of the National Academy of Sciences of Ukraine
State self-supporting enterprise, "ALMAZINSTRUMENT"
State Scientific-Production Enterprise "Tverdosplav"
State Small-Business Scientific-Production and Promotion Enterprise EKMA
State Small-Business Scientific-Production Enterprise LINATEK
State enterprise "Alcon-Diamant"
State Enterprise "Engineering - Production Center Alcon" of the NASU
ALCON-SERVICE
ALCON-AVTO
Disease-Prevention Center SLAVUTICH
Holiday Hotel ALMAZ (Crimea)
State Enterprise "Pilot experiment - Mechanical Plant"